Maklat
Regular price
Sale price
Dhs. 75.00
Unit price
per
Sale
Sold out
Order on WhatsApp
PROGRESSIVELY RECOVER NATURAL HAIR COLOR & DENSITY FOR A YOUNGER AND MORE CONFIDENT LOOK
Hair turns gray due to lack of body melanin support.This DARK Sublime is made of natural herbal serum, which is very healthy, and it penetrates into the scalp when used, providing nutrients to the scalp and reactivating the body's melanocytes, restoring the youthful look to the hair when it was young.
What is the secret in DARK Sublime Anti-Greying Hair Serum?
Not familiar with this hero product DARK Anti-Greying Hair Serum? It combines the strongest percentage of Arcolys, Greyverse, and growth factors for the ultimate in hair stimulation for both men and women. 
Greyverse™ contains an innovative a-MSH biomimetic peptide able to act on the different causes of the hair greying process. It offers an unprecedented efficient solution to prevent, stop, and reverse this inevitable sign of aging. It stimulates melanogenesis to increase the production of melanin in the bulb and favour an improved transfer, which eventually leads to hair repigmentation.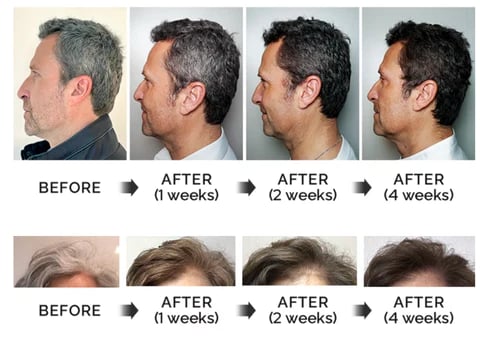 Why Choose Dark™?
Dark Sublime uses a herbal plant extraction solution with a purity of more than 95%, without adding any chemical composition, safe and healthy, fast results.
Innovation in the industry discovered Greyverse element, a natural active ingredient extracted from the molecule Picroside II, which has an amazing effect on melanin production in human melanocyte cultures, research found that 0.5% Greyverse™, after 72 hours of treatment, significantly increased melanin synthesis by 19%, which can significantly restore the hair's natural color and can significantly change gray hair and less hair after three months.
A double-blind, placebo-controlled study on 250 male and female subjects showed that twice-daily application of a leave-on formulation containing 1% of the active ingredient shows a significant reduction of the density of grey hairs per square centimetre. After 1 months the density of white hair is reduced by 74%. The active ingredient stimulates the natural pigmentation process to restore a natural hair colour in both men and women.
DARK Sublime Anti-Greying Hair Serum provides enough nutrients for the hair, deeply nourishes the hair and scalp. Repairs damaged hair, and effectively cleans the hair and remove dead cells on scalp.  In just 4 weeks of treatment during clinical trials, people saw outstanding visibly significant decrease in grey hair density by 80 – 94%.
What makes DARK Sublime Anti-Greying Hair Serum special:
Scientifically Darken Hair in 4 Weeks
Black-Changed complex Technology ( Greyverse™ & Arcolys)
Sulfate Free, Silicone Free, Paraben Free
Repair Damage Hair Follicles
Visibly Decreases White & Gray Hair Density
Moisten hair and supplement for hair follicles
Dedicated and Powerful Research Team
Reversa™ was developed over a 21-month period by our research team in conjunction with the Yale University Body Health Lab. Reversa™ has been a huge success due to the strong research team and the huge investment in research and development. Its unique approach and philosophy to weight loss has won several world class awards and is loved by many celebrities!
Yale University's Skin Research Laboratory in Connecticut
Share
View full details