Maklat
Regular price
Sale price
Dhs. 75.00
Unit price
per
Sale
Sold out
Order on WhatsApp
Calflove Pore Shrinking Serum
Calflove's Pore Corset Serum is the best pore tightening serum. This pore tightening serum is perfect for people who have enlarged pores or people with excess sebum & oily looking skin.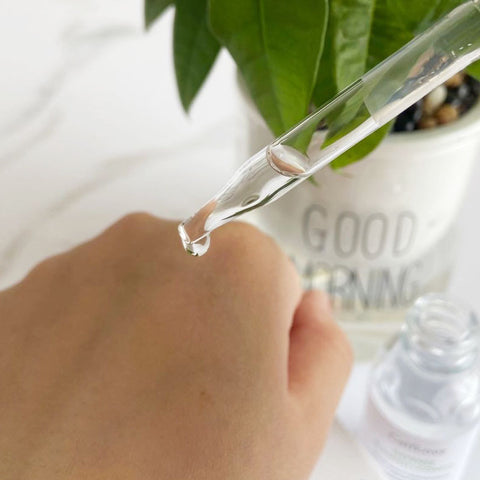 Try using a pore tightening serum that has lasting results, with ingredients like natural plant extract in Calflove's exclusive complex, the Serum is your best choice for pore tightening!
FEATURES:
3 minutes of thorough pore tightening therapy. Enlarged pores due to multiple factors break down the hydration barrier and lower the elasticity of the skin. The Calflove Pore Corset Serum tightens the pores immediately to restore firmness and youth to exhausted skin.
Optimal hydration balance to regulate sebum. Long-term usage of the Calflove Pore Corset Serum results in the transformation of pores and regulating sebum, the cause of oiliness and skin troubles. With a hydrating but light finish, the Pore Corset Serum creates the optimal hydration balance for the skin to regulate the excess production of sebum to prevent pore enlargement.
Revolutionizing skin tone & texture. The Pore Corset Serum protects frequently irritated and abused pores from damage and enlargement to revolutionize rough, uneven skin tone & texture into smooth and flawless skin.
RENEWAL POINT:
Except for the components in the preservatives, all of the elements have been replaced with plant extracts.
This will calm, reduce irritation and enhance the skin's texture.
Also, the Pore tightening effect rapidly takes place due to the fast absorption of the serum.
SPECIFICATIONS:
Applicable skin type: oily/dry/combined skin, suitable for fragile skin. This product is suitable for any skin tone.
Core ingredients: Chlorella, yeast extract, sodium hyaluronate, wheat germ, grapefruit, cactus stem, Scutellaria root, etc.
Product Efficacy: Improve large pores, invisible pores, and reduce fine lines.
HOW TO USE:
Apply to areas of face with enlarged pores. Gently tap with fingertips for maximum absorption.
TIPS:
Cleanse your face thoroughly using cleansing to completely empty out pores.
Apply Pore Corset Serum to areas on face with enlarged pores.
Please wait for minutes after applying Pore Corset Serum for maximum results!
PACKAGE INCLUDE:
1 x Calflove Pore ​​shrinking liquid
Share
View full details