Maklat
Regular price
Sale price
Dhs. 75.00
Unit price
per
Sale
Sold out
Order on WhatsApp
Acrylic Nail Steam Remover

You will remove acrylic, gel, glue, etc. in just a few minutes with our Acrylic Nail Steam Remover!
This Acrylic Nail Steam Remover machine uses the steam to soften the gel nail polish, remove all kinds of gels in a short time and clean your 5 fingers all at once! Besides, the nail remover water can be reused so as to avoid wasting.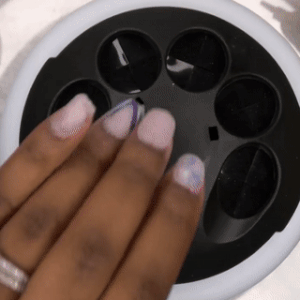 Acrylic Nail Steam Remover takes about 5 minutes to remove LED gel and 10 minutes for UV gel. This Remover is also great for removing different kinds of nail gels including nail polish, acrylic nails, shellac and more!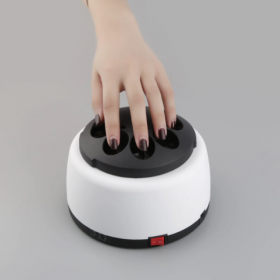 Furthermore, Acrylic Nail Steam Remover features a combination of heat and vapor that helps to soften the gel nail polish, lift, and slide off the nails easily. This device is safe and harmless for your skin. Purchase Wowelo`s Acrylic Nail Steam Remover for a very affordable price, save a fortune for yourself, and guarantee excellent care for your nails!
Acrylic Nail Steam Remover has the following product features:
Instructions: Open the top cover of the steamer. Pour into 5-10 ml gel removal solution (note: it must be poured into the plastic cup). File the top coat gently. Turn on the power switch, then the light "H" will on, after a while (about 2 minutes), the light "S" will on, at that time you can put your fingers into 5 holes. The LED gel can be removed easily after 5 minutes, but for the extension of UV gel, it will take 10 minutes to finish, and the max. temperature is 52 degrees. Cuse the nail stick to remove gel polish quickly before it gets dry (within 15 minutes is better).
Power: AC 85-240 V, 50/60 Hz
Cable Length: 1.5 m
Net Weight: 432 g
Size: 16.5 x 16.5 x 10.3 cm / 6.5 x 6.5 x 4.06 inches (Length x Weight x Height)
Package Includes: 1 x Nail Steamer, 1 x Power Cable, 2 x Water Bowl, 4 x Finger Isolated Leather, English Manual
Share
View full details